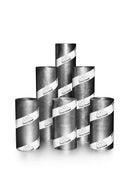 Description
Underscoring its adaptability and superior water-resistant qualities, this 1400mm x 3m Code 7 premium cast rolled lead from Midland is the perfect selection for a range of roofing activities. Ideal for applications on flat roofs, pitched roofs, dormers, and for use as lead roof flashing, this product delivers exceptional performance.

Code 7 rolled lead serves as a multifaceted solution for various roofing applications, available in both 3m and 6m rolls, and in a broad assortment of widths. With its durable nature and its unmatched resistance to all weather conditions, it stands as a leading choice for roofing necessities.
Why Choose Midland Lead Code 7 Cast Lead Roof Flashing Roll?
BBA Approval (86/1764)
Fully malleable
Easy to work with
Manufacturers guarantee of 60 years
Life expectancy of 100 plus years
100% recyclable
Sustainable & environmentally friendly
Non-corrosive
Excellent weather-proofing properties
NHBC Approved
What is the difference between machine cast lead and rolled lead?
The only real difference is the manufacturing process. Rolled lead is manufactured by passing a solid slab of lead sheeting back and forth through a rolling mill, where as machine cast lead is manufactured by dipping a rotating water-cooled drum into a bath of molten lead.
Product Specifications:
Thickness: 3.15mm
Size: 1400mm x 3m
Weight per m2: 35.70kg
Uses: Flat/pitched roofing, vertical cladding, hip & ridge flashing, parapet, box & tapered valley gutters, pitched valleys, bay tops & canopies and dormers.


Please note: Lead has a tolerance of +/- 5%
Deliveries are made on the basis the customer can accept the goods, or willingness to off load the goods, or having means of mechanical offload, this also applies to heavier items such as pallets etc. All deliveries are made 'kerbside' and often it can be at the discretion of the driver. A large majority of deliveries would be made on a large rigid tail-lift vehicle and off loaded via a pallet truck and only on to flat surfaces such as tarmac, concrete and pavers. If you do have restricted access, please contact us prior to placing your order. We will always try to accommodate your needs. If a delivery fails due to access, we reserve the right to make a re-delivery charge. All delivery charges are calculated when checking out. The delivery charges included are for the Mainland UK only and do not apply to the Scottish Highlands, or Isles off the Mainland. Additional charges may apply for deliveries that aren't classed within the Mainland (this is classed by ourselves, suppliers and couriers) Please contact us on 01752 466151 or sales@roofingsuppliesuk.co.uk Due to the nature of our business model, this can mean your order will be sent via multiple deliveries. Whilst we will make every effort to deliver your goods within the stated/requested time frame, we cannot guarantee availability from the manufacturer or the manufacturer's delivery schedules, so we would recommend the end user not to start/schedule any work until the goods arrive. Due to logistics of various couriers and suppliers we are unable to give times of deliveries. However, please call or email us on the day of the delivery and we will try to get an approximate time. Deliveries can take place from as earlier as 07:30 right up to 18:00 depending on the courier/haulier and taking into account local traffic etc.
You have 14 days from receiving your item(s) to return them should you wish to do so. Please contact us should you wish to arrange a refund/return. Any bespoke items such as cut to size lead, cut to size sheets and coping stones are all made to order and are non-refundable.
Payment & Security
Your payment information is processed securely. We do not store credit card details nor have access to your credit card information.