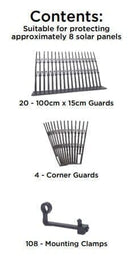 Description
Experience the solar revolution in the UK as solar panels grace the rooftops of businesses and homes alike. Amidst this exciting trend, a common concern arises: the accumulation of debris under panels and the unwanted nesting of birds. Such issues can lead to damage that hampers your solar panel's performance, potentially rendering them useless and even voiding your warranty. Typically, people tend to use wire netting for protection, however, have the need to mechanical fix the netting would render your solar panels warranty useless. Take the safe option and buy your Solarguard Protection System today!
With its ground-breaking system, this innovative product ensures that debris and bird-related challenges become a thing of the past. Just one Solarguard Pro unit effectively shields around 8 solar panels, delivering exceptional value for your investment and offering unparalleled peace of mind. Easy installation and remarkable efficiency make Solarguard Pro the ideal safeguard for your renewable energy endeavour.
Why choose the Solarguard® Protection System for Solar Panel Bird Protection?
Prevents debris or birds nesting beneath the panels
Easy to install
10 year warranty
Cost effective
Ensures your panels or damaged
Protects up to 8 solar panels
Product Specifications:
Kit Contents: 20 Guards, 4 Corner Guards, 108 Mounting Clips
Guard dimensions: 100cm x 15cm
Total meterage coverage: 20m
Deliveries are made on the basis the customer can accept the goods, or willingness to off load the goods, or having means of mechanical offload, this also applies to heavier items such as pallets etc. All deliveries are made 'kerbside' and often it can be at the discretion of the driver. A large majority of deliveries would be made on a large rigid tail-lift vehicle and off loaded via a pallet truck and only on to flat surfaces such as tarmac, concrete and pavers. If you do have restricted access, please contact us prior to placing your order. We will always try to accommodate your needs. If a delivery fails due to access, we reserve the right to make a re-delivery charge. All delivery charges are calculated when checking out. The delivery charges included are for the Mainland UK only and do not apply to the Scottish Highlands, or Isles off the Mainland. Additional charges may apply for deliveries that aren't classed within the Mainland (this is classed by ourselves, suppliers and couriers) Please contact us on 01752 466151 or sales@roofingsuppliesuk.co.uk Due to the nature of our business model, this can mean your order will be sent via multiple deliveries. Whilst we will make every effort to deliver your goods within the stated/requested time frame, we cannot guarantee availability from the manufacturer or the manufacturer's delivery schedules, so we would recommend the end user not to start/schedule any work until the goods arrive. Due to logistics of various couriers and suppliers we are unable to give times of deliveries. However, please call or email us on the day of the delivery and we will try to get an approximate time. Deliveries can take place from as earlier as 07:30 right up to 18:00 depending on the courier/haulier and taking into account local traffic etc.
You have 14 days from receiving your item(s) to return them should you wish to do so. Please contact us should you wish to arrange a refund/return. Any bespoke items such as cut to size lead, cut to size sheets and coping stones are all made to order and are non-refundable.
Payment & Security
Your payment information is processed securely. We do not store credit card details nor have access to your credit card information.